OUR "WHERE ARE THEY NOW?" SPECIAL
Issue No. 30
Words: Zahara Hill and Kathryn Vandervalk
Whether establishing a business from their dorm room or serving an executive position at a global company, there is something that unites every mater mea mother: They all serve as reminders to the potential within all of us.
Since we launched in May 2012, we've been able to peer into the lives of some of the most captivating mothers of color out there as they juggle the demands of parenting and career. They inspire us all—from young women just joining the working world, to established mothers figuring out how to combine personal fulfillment and career.
As they have left such an impression upon us, for our 30th issue we wanted to catch up with some of the women we have profiled in the past to laud their latest accomplishments as well as their remarkable character that helped lead them to where they are today. While it comes as no surprise that they are continuing to make great strides in their careers and as mothers, we remain blown away by these women's stories.
xo, mater mea
UPDATE FROM JUDIA BLACK, CEO OF ENJOIE
"I think that no one can have everything," Judia Black said when asked the ever-present "Can women have it all?" question. "But I do think it's all about timing: There's a time and place for all of it."
Catching up with Black today, it seems like now is a great time for her as a mother, as well as CEO and founder of enJoie, a food and wine media company she founded in 2008 after years of being a stay-at-home mom to daughters Danielle and Nicole. "I think they're proud to see [the] business take off and be a part of it," Black says now of her daughters.
enJoie's success is evident in the company's most recent win: collaborating with Heritage Link Brands and the family of former South African President, Nelson Mandela, in distribution of their wine brand, House of Mandela. Black worked with the family to put on an African-themed event inspired by Mandela in her Hamptons' home this summer.
Photo credit: Rog Walker
Black was thrilled at the opportunity—it reminded her of what she loves about being in business for herself, she says. "I always like to be able to help other people, to teach people about things they may not have known before, and to help other people achieve their goals while I'm achieving mine," Black says now. "I love it when we can come together and find that we're better as a team then we are apart."
After collaborating with Heritage Link Brands and the Mandela family, Black says she's now found her niche. "I really want to focus more on South African wines," she says. "I'm really excited about the opportunity to be involved. My passion is wine and food, but [it's] also my heritage. [I like being able to] bring those two together."
What was the event for House of Mandela wines like?
We did a wine tasting event featuring South African wine and food at my home in the Hamptons. There were also other female African-American entrepreneurs there selling hand-made jewelry and skin-care products inspired by African heritage and culture.
I felt like it was a good way to showcase African-American women and Africa in a way that people have not traditionally thought of—you know, [as a] totally upscale kind of luxury experience rather than this uncivilized jungle. We had really good attendance and donated a portion of proceeds from the event to the House of Mandela Family Foundation.
What exciting events or opportunities are coming down the pipeline for you?
In October I'm going to be co-leading a seminar on South African wine [at The Food Network New York City Wine and Food Festival]. The Food Network does this wine and food festival every year in different locations; the one in New York is probably the biggest. A lot of the celebrities, chefs, and personalities from The Food Network come and do different seminars, tastings, and events.
Do you have any current goals in regards to motherhood or your career?
Just to keep striving to be the best that I can be and being able to incorporate my children into the things I do. [Also] making sure everything that I do is something I can hold up to them as an example, as a positive effort that's worthwhile and meaningful.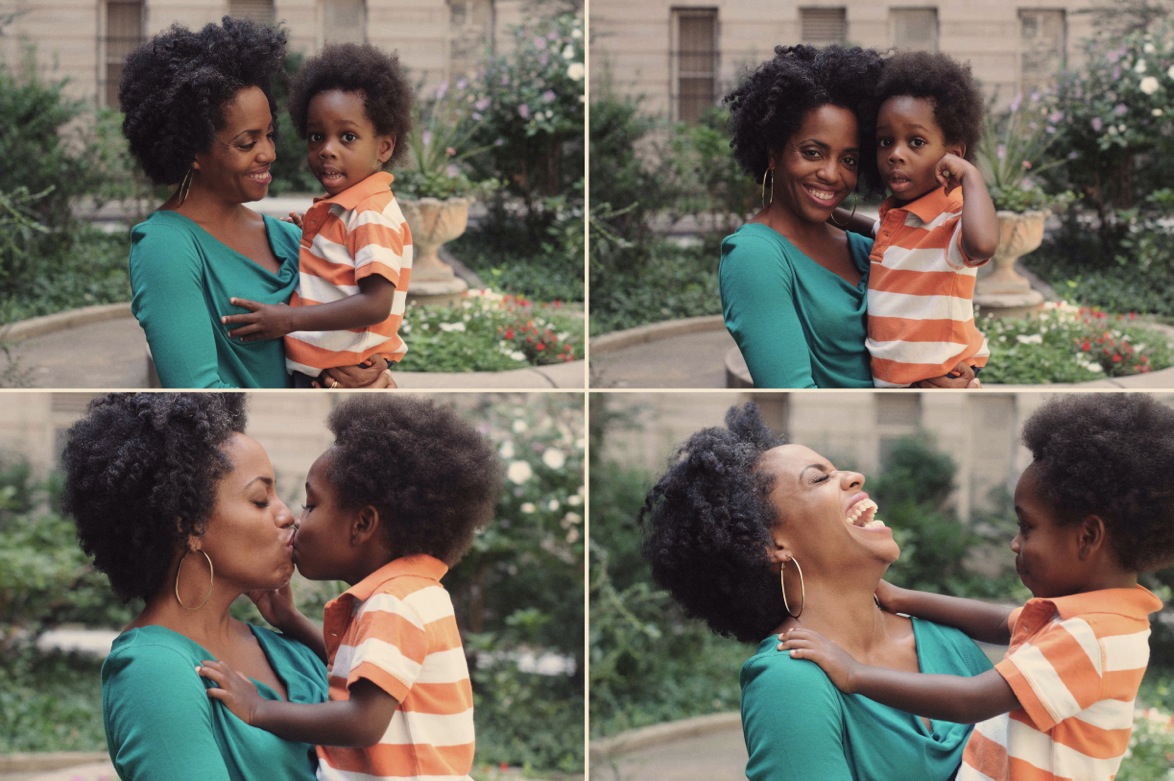 UPDATE FROM RHONDA ROSS, PERFORMER
Rhonda Ross can maneuver herself around different worlds -- from her job as president of her own real estate brokerage to her musical and acting performances. It's a skill Ross hopes to pass on to her son, Raif, who—at the age of 3—could speak four (yes, four) different languages. "I love the idea of him walking the world—Beijing, Paris, Madrid—and he doesn't need a translator, he can walk that soil," Ross said a year ago. "But he can also walk Harlem and 125th Street and know how to speak that language."
Now 4 years old, Ross continues to make sure her son can fit in seamlessly, all over the world. "[The languages] have all really developed. He is fluent in each of the four," Ross says. "He's been going to [a Chinese language school] this past year, and he'll go again this coming year. I've been really fortunate to find activities that we would do anyway in different languages. So ski school in French, soccer team in Spanish, Chinese day camp, the swim teachers have also been Spanish-speaking. It's been great because we've been able to keep him going with activities that any 4 year old would love to do and try, so he can do languages without giving up any activity.
Photo credit: J. Quazi King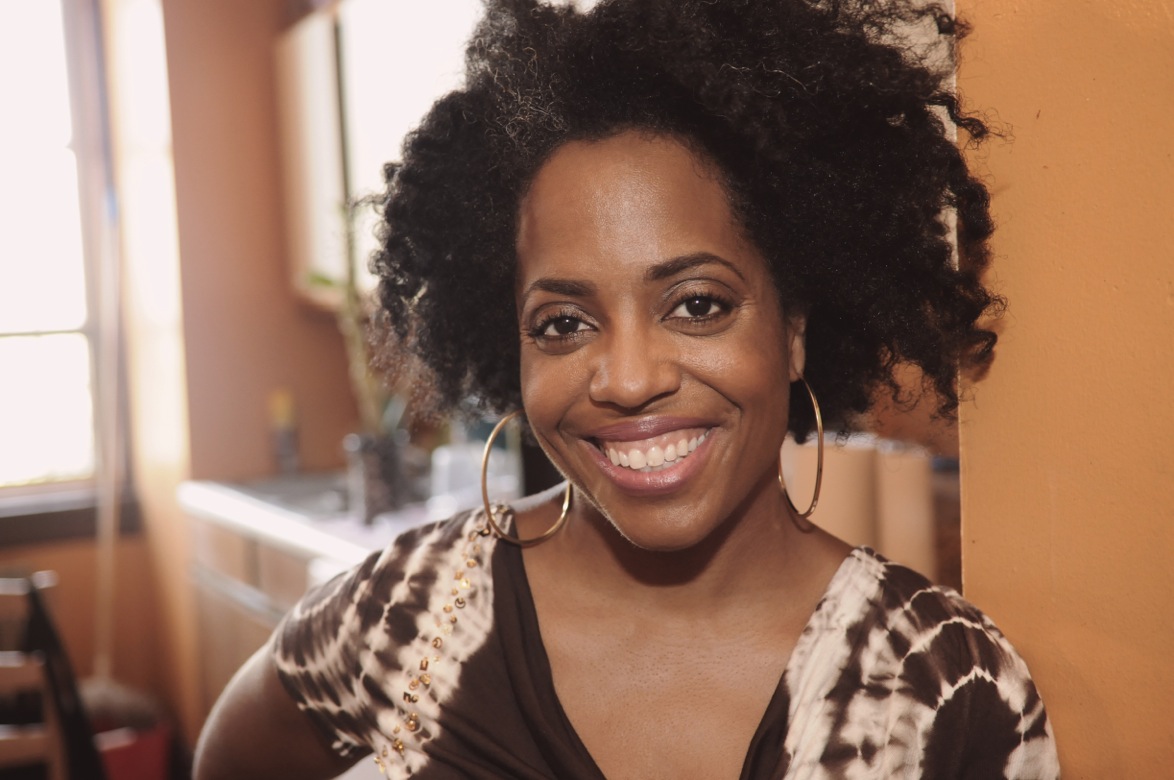 Much like her son, Ross is flourishing as well. While a year ago she was focused on her real estate brokerage, she is now delving back into her true passion: music. "[The transition back to music] was just really starting this time last year, but now I've been performing much more often," she explains. "I have a lot of performances in the next month around the country. I'm working in different genres now; I used to be more jazz, but now I'm trying out neo-folk and R&B elements."
With a budding music career (she is working on her first solo album in 10 years and just performed in front of 18,000 people at The Hollywood Bowl) and a multilingual son, Ross certainly has a lot on her plate. She admits that it is a balancing act, conceding, "I'm very blessed. My husband is a big help and I do have childcare help. Otherwise, some days are better than others. I try to keep my priorities straight. My husband and son, their well-being and happiness, are more important than [my] career. Then everything else falls into place."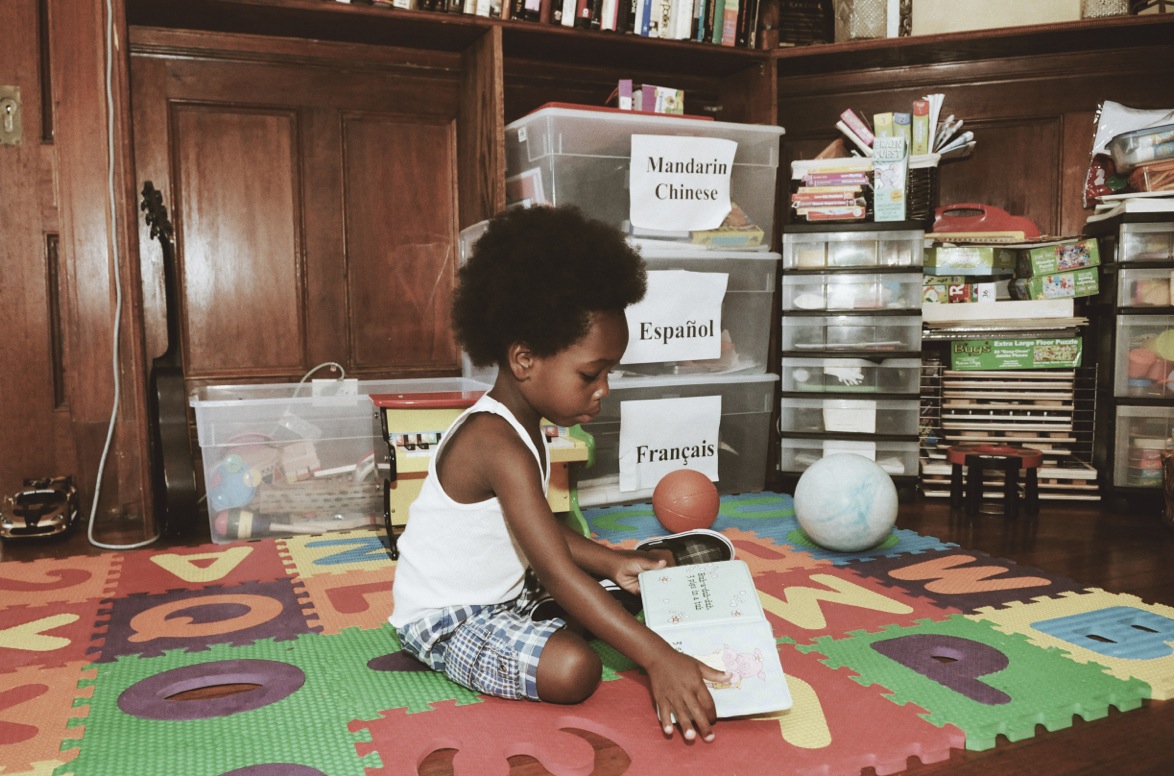 Now that Raif is fluent in all four languages, are you going to add another?
I will eventually. I'm heavily leaning towards Arabic. I think it's an extremely useful language. Hindi comes up for me too. I do feel like I'm choosing languages that are broad in [regards to] how many people speak them. It's really important to me that he be deeply fluent in all four first though, to be able to have in-depth conversations on a myriad of subjects.
Your son sounds brilliant!
I think all children are capable of this. I think we don't give them enough credit. Children are born programmed not only to learn, but to learn language specifically. They are, from minute one, trying to communicate with the world around them, and they will figure out how to say [what they need to communicate] in any language that will get the job done. I do think that my son is bright, and I'm happy that he loves [language learning], but I do think children are born brilliant.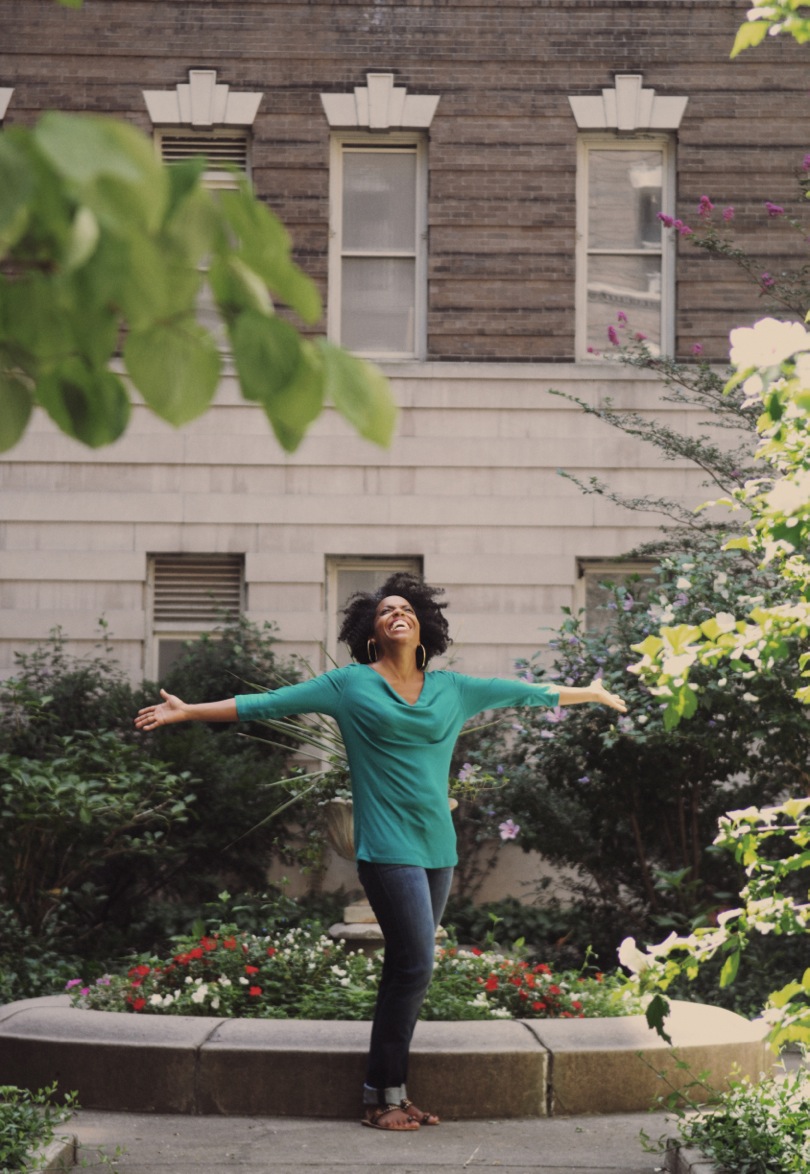 The last time we spoke with you, you had a strong religious faith. Has anything changed in that respect?
I remain amazed by how much being aligned with God helps [in everyday life]. I always get wonderful reminders that God's spirit is always there to help and guide us. If we open ourselves to it and listen, things go much more smoothly.
Every now and then I have an opportunity where I can really see that. I just performed as the opening act for my mother's show at The Hollywood Bowl. There were so many things that could have gone wrong, and they almost did. It was such an amazing thing to see God's hand at work among the members of my team. It's a good feeling to know that when you're open and aligned with God's spirit, it can aid in so many ways.
How did the show at The Hollywood Bowl go?
I was very pleased with my performance, thrilled with my band. They were local musicians that I had met just days before. They stepped to the table, and we were like family from the minute we met. I performed three of my original songs. Some people thought that I should sing songs that everybody knew, but I wanted to give them my words. I had never been to The Hollywood Bowl before; even though it had 18,000 people, it felt so intimate. My brother [Evan Ross] was also one of the opening acts. It felt like a family affair.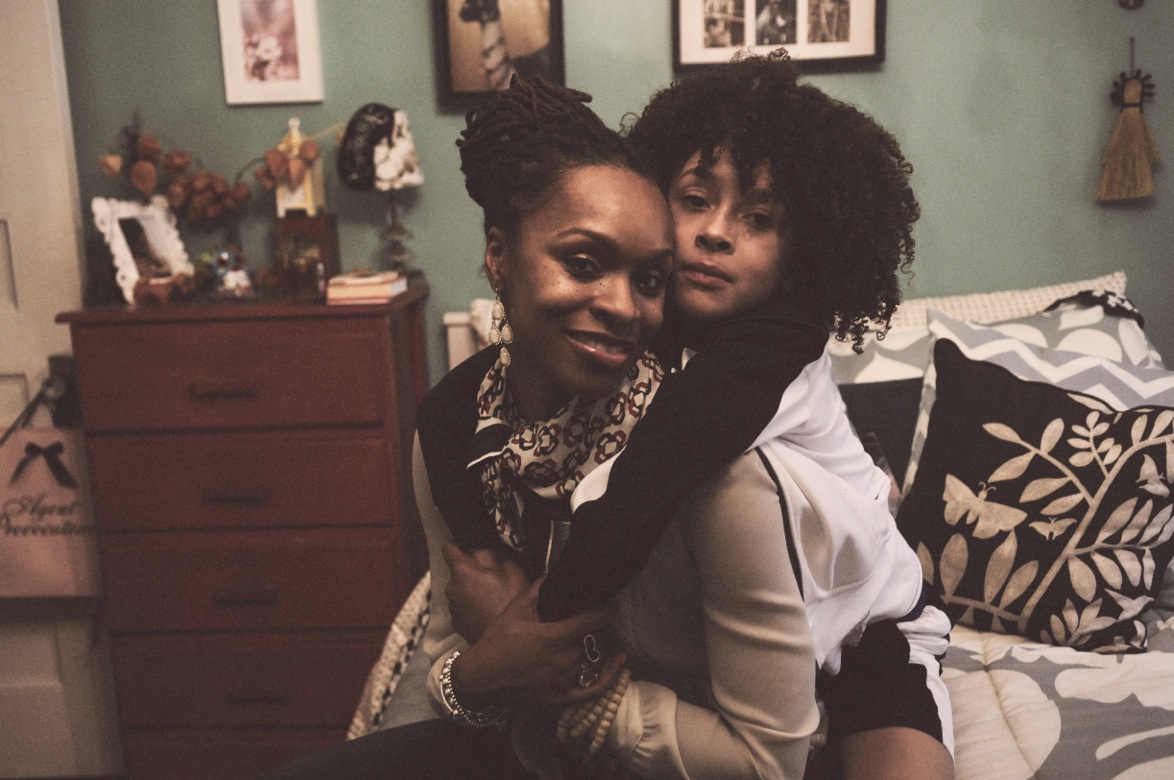 UPDATE FROM LATHAM THOMAS, FOUNDER OF MAMA GLOW
Not a year has passed since we first spoke with maternal wellness guru Latham Thomas, yet she and her DJ son, Fulano Librizzi, continue to impress us, one delivery and one turntable at a time.
Thomas' summer has been very busy with deliveries as a result of conceptions that occurred during Hurricane Sandy, the storm that struck the Northeastern coast last October. "We had five babies in one week and they're still coming," Thomas says. "We're delivering a lot of little ones, which is really exciting!"
Photo credit: J. Quazi King
Along with deliveries, Thomas is shepherding her brand, Mama Glow, through new opportunities.
"We are now getting ready to launch some exciting new programming [in the fall]," she explains. "[We're going to have] some really great events and partnerships with powerful organizations of maternal health; we're looking to continue to expand all the awareness around global maternal health, specifically around the reproductive period for women and [children's well-being]. We're also working on some really unique programs for television [and] launching a self-care line."
Thomas isn't the only one in the family making promising career moves. Although Fulano is only 10 (he recently celebrated his birthday as lavishly as any young DJ would), he is also staying busy with work: he will soon be headed to Los Angeles to DJ events for Old Navy and recently launched his own website, Fulano's World.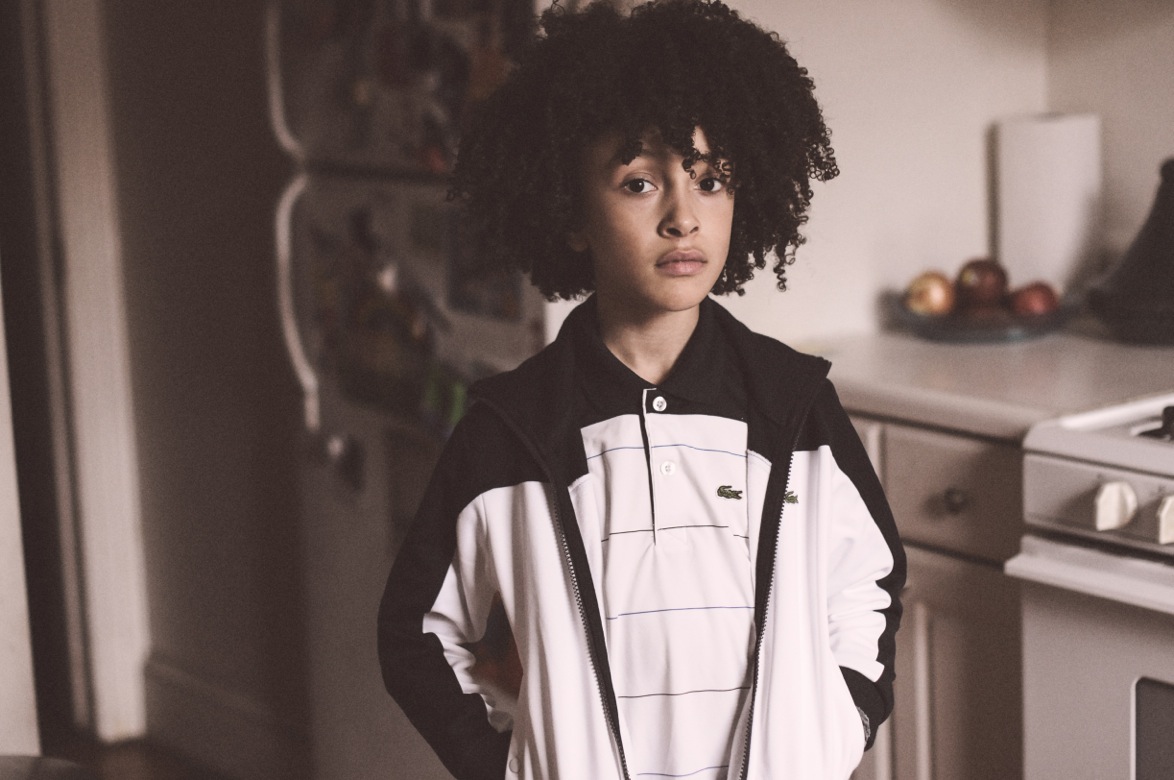 What would you say has been your greatest accomplishment since we last spoke with you?
I would say these little babies that we deliver. I just love that we have so many more in the mix and [that] the moms [are becoming] stronger, wiser, more powerful. I bow to them. And my son turning 10; he has a decade of loving, supporting, and growing with him. So those are my two [accomplishments].
If mater mea were to reach out to you again in 10 years what kind of news would you hope to have for us?
I'd like to say [Mama Glow is] an entity [with global impact] that's helping change the face of health, beauty, and lifestyle for women. I hope that we can commit in a positive way to the moms that come to be served by us. I hope I can also talk about whatever my son is up to at that point. He has some big dreams. I hope the ones he shares are ones he'll be able to elaborate upon in 10 years when he's 20.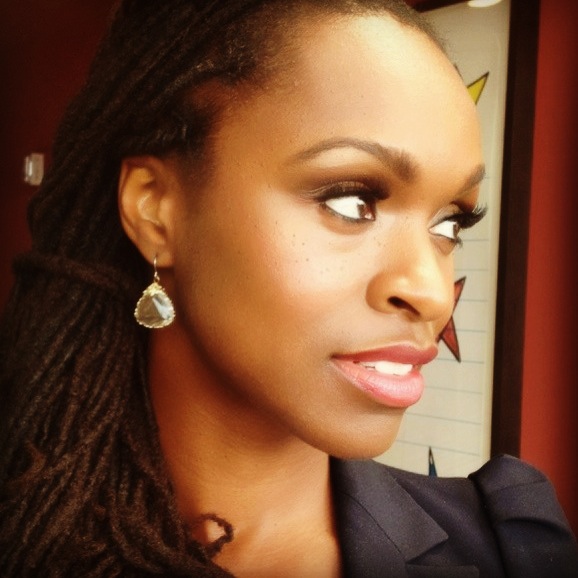 What keeps you motivated?
God keeps me motivated. I think it's my vision and passion. Every day I wake up because my goal in life is to be of service. So when I know I'm doing [something] that [makes me] feel fulfilled and I know that's what I'm supposed to be doing, that really drives me. [It] gives me the umph, the pep in my step, the energy to do all that I do. Especially when I feel like I can't get it done because there's so much of it to do.
UPDATE FROM LORRAINE WEST, JEWELRY DESIGNER
Having world-renowned neo-soul artist Erykah Badu reach out to you to help style her before each tour just might be the mark of success. But jewelry designer Lorraine West isn't one to rest on her laurels.
Word is spreading about West's jewelry collection and consequently helping her business prosper. "It's been a successful summer selling my Balance Between Spring/Summer 2013 Collection via Etsy and word-of-mouth client referrals," she says. "I just completed production of a stunning engagement ring commission. [I also] just began the production of two more engagement rings this week."
Photo credit: Sadé Clacken Joseph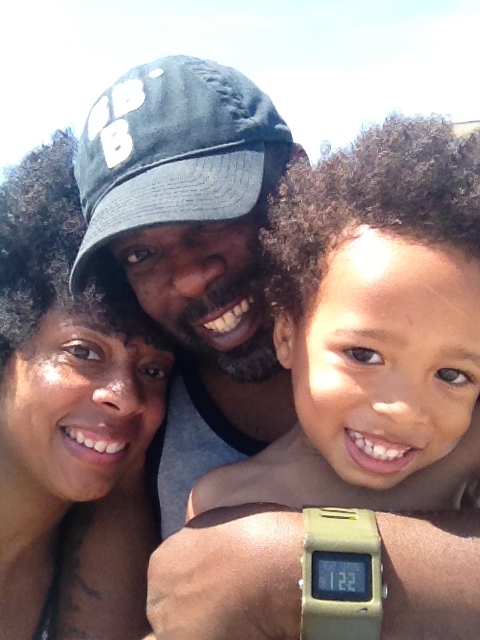 With a steady stream of celebrity clientele, you would never think she sold her first jewelry piece to a customer while working at a juice bar. West's attributes some of her new celebrity clientele to her Instagram account, which she uses religiously to promote her jewelry. "I'll be designing new pieces for Somi as well as Alice Smith before the year is out," West says.
"Both beautiful song birds are happy clients from years past and lately admirers of my new work via Instagram. [Singer] Rahsaan Patterson and I connected via Instagram and introduced ourselves through email last month. We look forward to meeting each other in person, kicking it, and discussing designing him some special pieces."
West with her partner Solomon Boyd and their son Solly.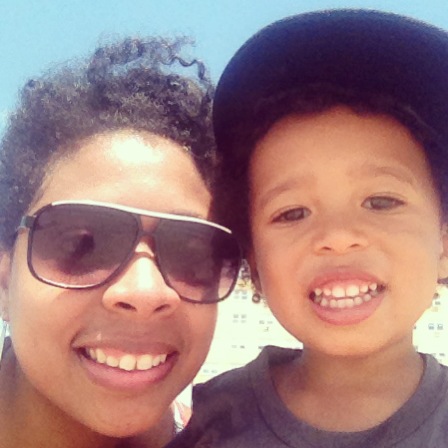 It's not only West's business life that has been flourishing since we last spoke with her. "My life is becoming more in balance," she says. "I'm managing my time better between the responsibilities of taking care of myself; my home; relationships with my life partner, my son, my friends; creativity; and my business. I'm feeling less overwhelmed and more in control of my life."
Have there been any other new business undertakings or projects?
Yes, I'm working on re-launching my website in January 2014. It's a huge project for me. It's going to be a total re-branding. I have a couple secret projects underway: collaborations!
If mater mea were to reach out to you again in 10 years, what kind of news would you hope to have for us?
My family and I are happy, healthy and well-traveled across the globe. I'm a Council of Fashion Designers of America member and [an] award-winning designer. I'm a millionaire from my booming jewelry business. [You'd be able to] come for a tour of my store in New York City [with a] showroom, studio/production offices and a school [where] I teach jewelry design.
An engagement ring created by West. You can see more of her work on her Instagram account.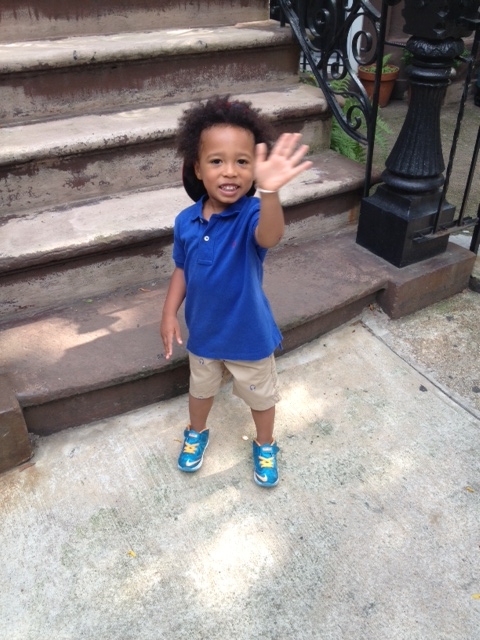 What's new with your son these days?
[He] is doing fantastic. He's healthy and happy. He's been consistent with his ambitious practice of the alphabet, counting, shape searching, and creating his art work. He's very active, loves running, jumping, playing soccer and basketball. He's communicating his needs and wants to improve his verbal skills. It melts my heart to hear Solomon say to me, "Mommy, you're the best ever," or "I love you, Mommy."
What really sparks your creativity and keeps you motivated?
Being alive and having all of my faculties working in harmony motivates me. [Also knowing that I] have my family and knowing that I'm building a strong foundation for my son's future. [My desire to] become the best self and artist I can be [constantly keeps me going], as well as knowing there is so much more for me to accomplish, see, and do. My experiences are my greatest teacher and always shine light on my creative process.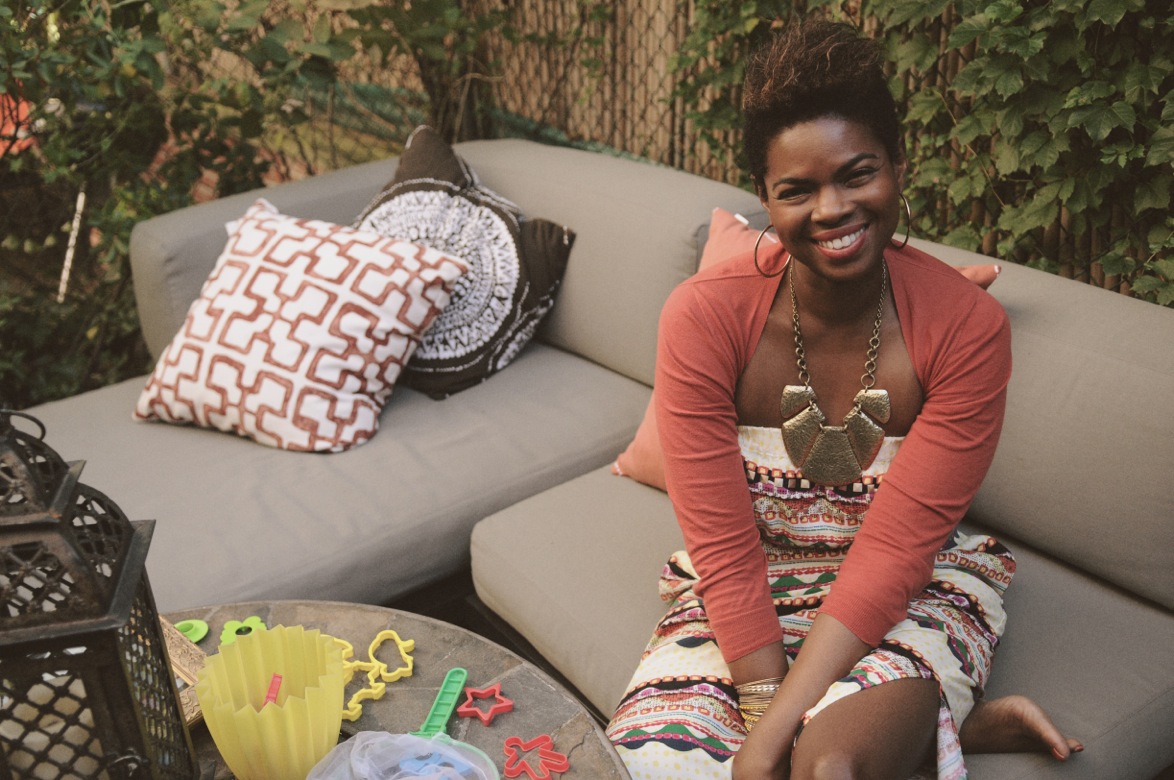 UPDATE FROM TRENESA STANFORD-DANUSER, ESTÉE LAUDER VP
At a recent dinner party, Estée Lauder executive Trenesa Stanford-Danuser found herself sharing a hard-earned piece of advice with a CEO and soon-to-be mother.
"I leaned over to her and said, 'You really will see things differently once you've had a child… The lens that you look at your career once you've had children or jobs that take you away from them [is] pretty significant.'"
Stanford-Danuser speaks from experience. Her job as VP of global communications and strategic alliances for Estée Lauder's Origins skin care and Ojon hair products often requires long hours (and sometimes days) away from her children, Dylan and Romon, and her husband Chris Danuser.
Photo credit: J. Quazi King
"I'm happy with the choices that I've made and that I do make choices when it comes to my career," Stanford-Danuser says, "but I'm also pretty dedicated to making it up to them when travel takes me away."
Her children are starting to do some traveling of their own—her daughter, Dylan, recently returned from summer camp in upstate New York, while Romon attended a science and yoga camp in Brooklyn.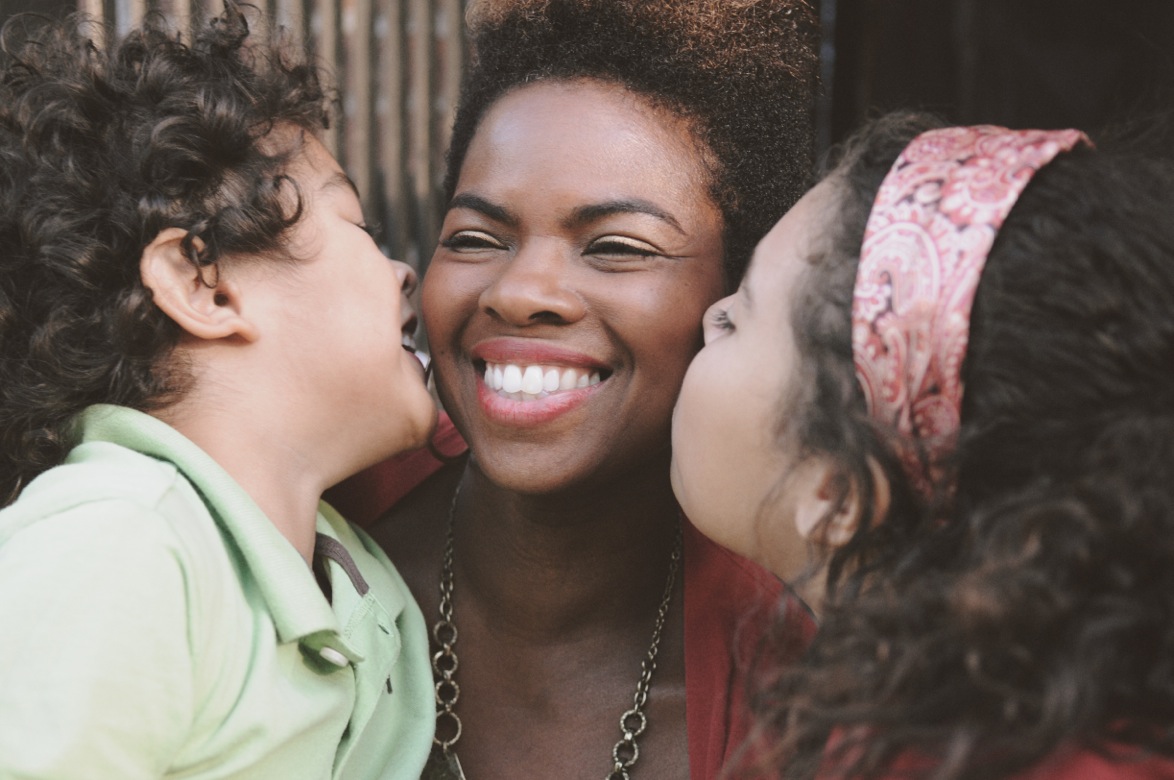 How did you feel about Dylan and Romon going to camp this summer?
[Dylan] didn't let missing mom and dad get in the way of her having a great experience and making new friends. When we asked her on the road trip back home if she ever got homesick, she sheepishly looked at us and said no. So we're kind of expecting her to be the kid that will move out of the house after college."
[As for Romon], I don't think science camp would be my idea of fun, but for my son absolutely. He loves to do the experiments. He's totally into the planets, he's really quite clever.
Every parent wants to think that their kids really miss them and they want to be with them. But for me, to feel like I'm raising a really independent kid who can go away from home for a couple of weeks and feel confident there and thrive there, that's a pretty proud moment as a mom.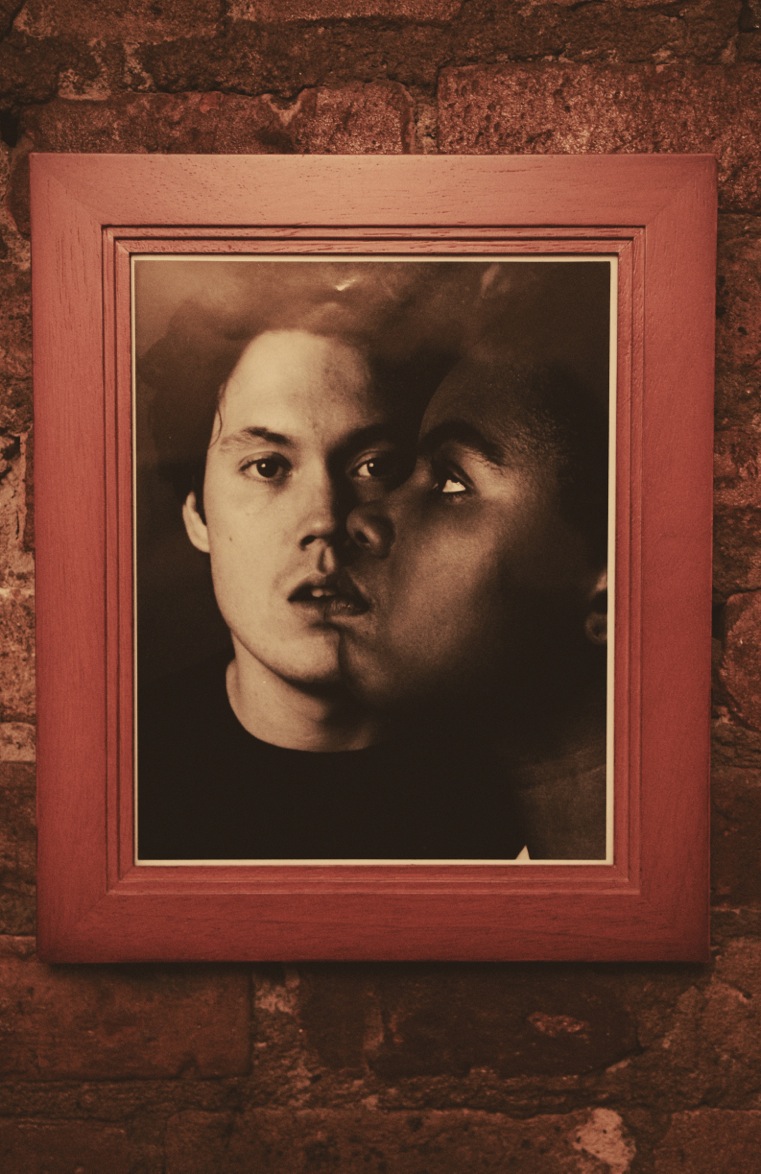 What goals are you working toward in your career and as a mother?
I'm always interested in learning new things. I'm very interested in bringing new skill sets to the industry in the category I do. I certainly feel like from a career perspective it's always a very smart thing to raise your value by learning more, [and] bringing more experience from a different perspective into the work that you're doing.
As far as my children, I really hope that I can continue to balance my life as best I can. There is no perfect formula for it. There are times when maybe you feel like you're not getting it right.
Is there anything else that you'd like to update us on?
You never asked about the husband. (Laughs)
Oh, we're sorry! How is your husband?
(Laughs) I wouldn't be able to do the things I'm doing as far as my career without a great partner, so I certainly don't want to leave him out.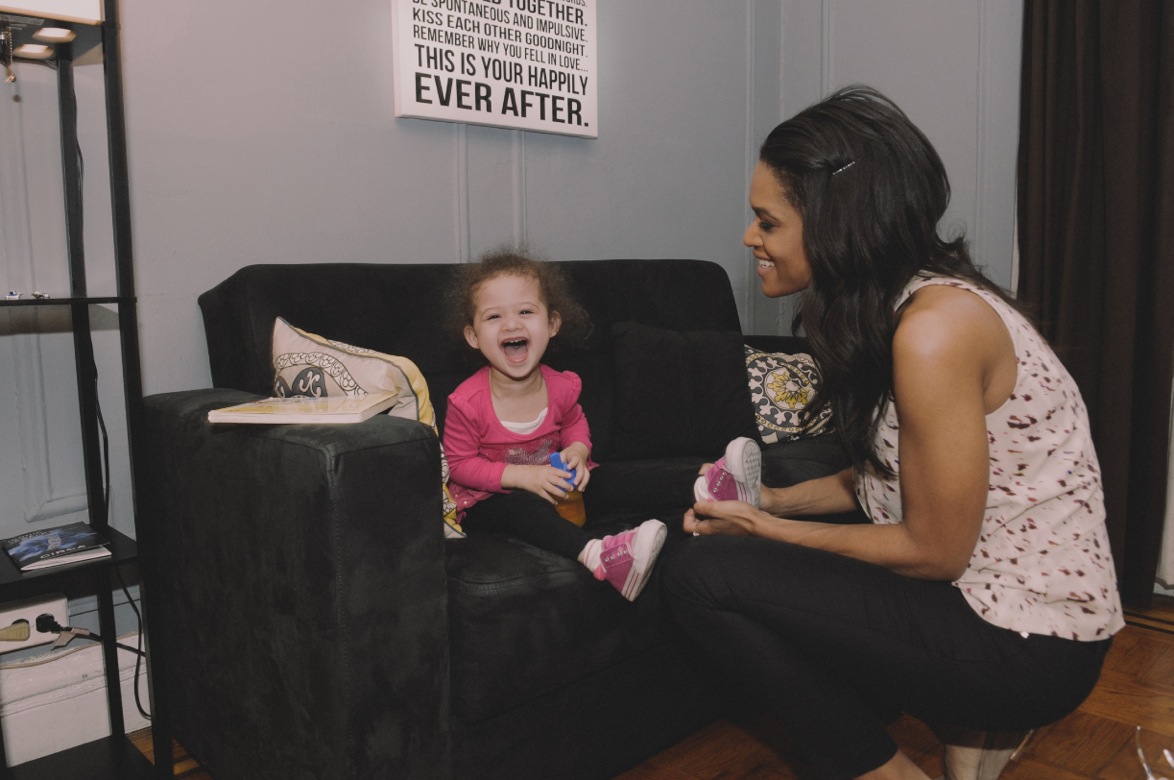 UPDATE FROM VERONICA VALENTINE, ASST. BUYER AT CIRCA
Having a child at 24 was not originally a part of aspiring jewelry buyer Veronica Valentine's plan. But becoming a mother gave Valentine a strength she said she didn't expect.
"I think that it pushed me through this time where a lot of people are trying to find themselves," she said. "[Your 20s are] difficult and you do get lost. I think that being a mother definitely has helped me push through that. It's helped me find myself through the fog a little faster."
These days, her daughter, Mila, continues to be a guide for her—an especially sassy one at that. "A few days ago she told me to get myself together. She said it in the way that I would have said it, 'You need to just get yourself together!'" Valentine recounts amidst shrieks of delight from Mila. "I don't want to laugh because I don't want to encourage her sassiness, but obviously she gets it from me. If she's having a fit, we tell her to get herself together. One day that I seemed frustrated, she told me [that I should]."
Photo credit: J. Quazi King
In terms of work, Valentine is no less driven than she was a year ago. Still at heritage jeweler CIRCA, she is now taking classes to become a gemologist (someone qualified to identify and evaluate gems) in order to further her career. She was initially hesitant to enroll. "I think that taking the steps to further my education in my career was a difficult decision for me to come to," she says now. "I'll obviously make more money, but it was difficult to take away my time every Saturday. In the end it will be beneficial for both of us; it will of course benefit her if I'm doing better [for] myself."
Even with this added responsibility, Valentine still makes sure she and Mila spend quality time together; in fact, she's carving clay animals as she speaks. Everyday after work, Valentine sets aside an hour just for doing activities with Mila. "She wanted to make clay animals and flowers and bananas and things for them to eat," Valentine explains. "That's what she asked to do. The little bit of time I have when I get home, I try to make that time about us doing something together."
How is Mila doing?
She's 3 now, and she'll be going to preschool in the fall. She's very sassy, mature for her age—she has sort of an older soul. She has her own sense of self, likes to pick out her own clothes, and [to] be independent. A miss know-it-all. She's a smaller, more gorgeous version of myself. (Mila shrieks with delight.)
How has your role changed as a parent in the last year?
I'm seeing now that my role as a parent is being someone that [Mila] looks up to, someone she can model herself after. I don't think I came to that realization until she got further in her development in terms of her character.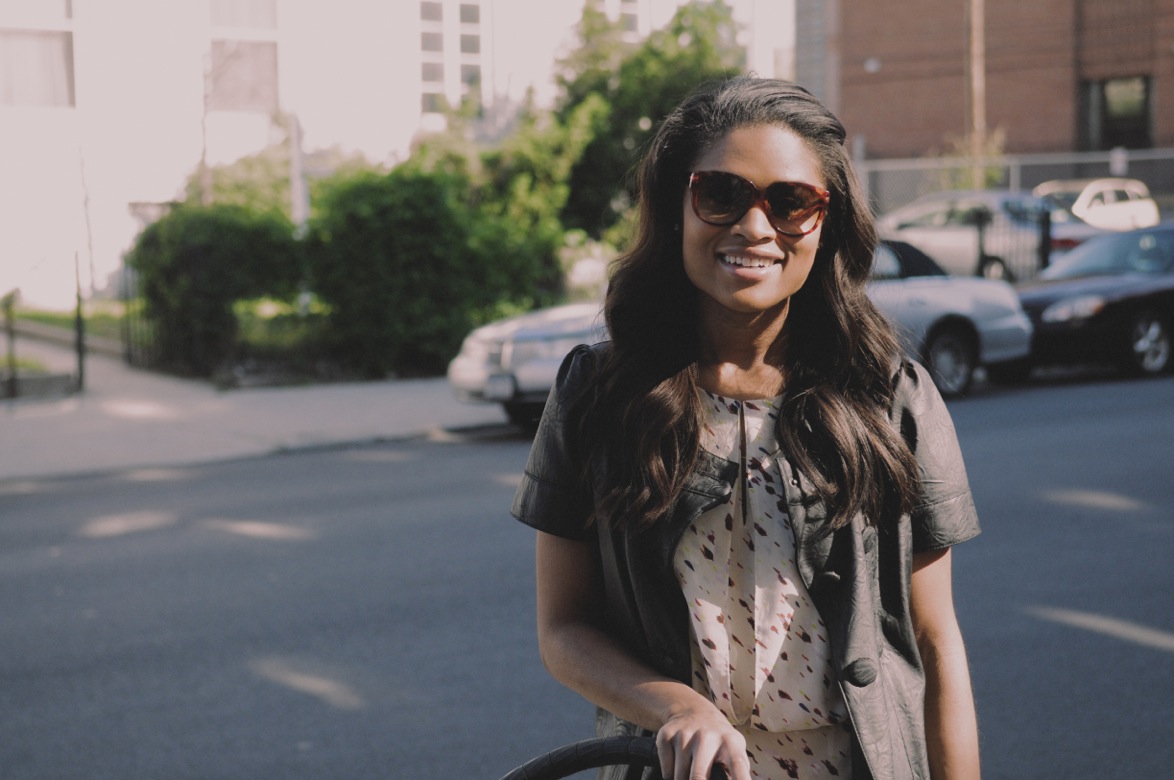 Have there been any new, exciting undertakings at work?
We've partnered with the Horticultural Society and that adds a level of interest for me, because eating healthy and being holistic interests me. It's interesting to be involved with and to go to events where I'm learning more about horticulture. It's inspired Mila and I to plant some seeds.
Fast forward to 10 years from now. Where do you hope to see yourself?
Mila would be 13! She'd be on track for high school and I'd hope she would have good grades; I'm sure she will. I see myself still with the same company and working as a director, hopefully with my own branch somewhere else in New York or some place close by. I'd love to train other young, new buyers. I hope to be remarried, and I really want a little boy! (Laughs)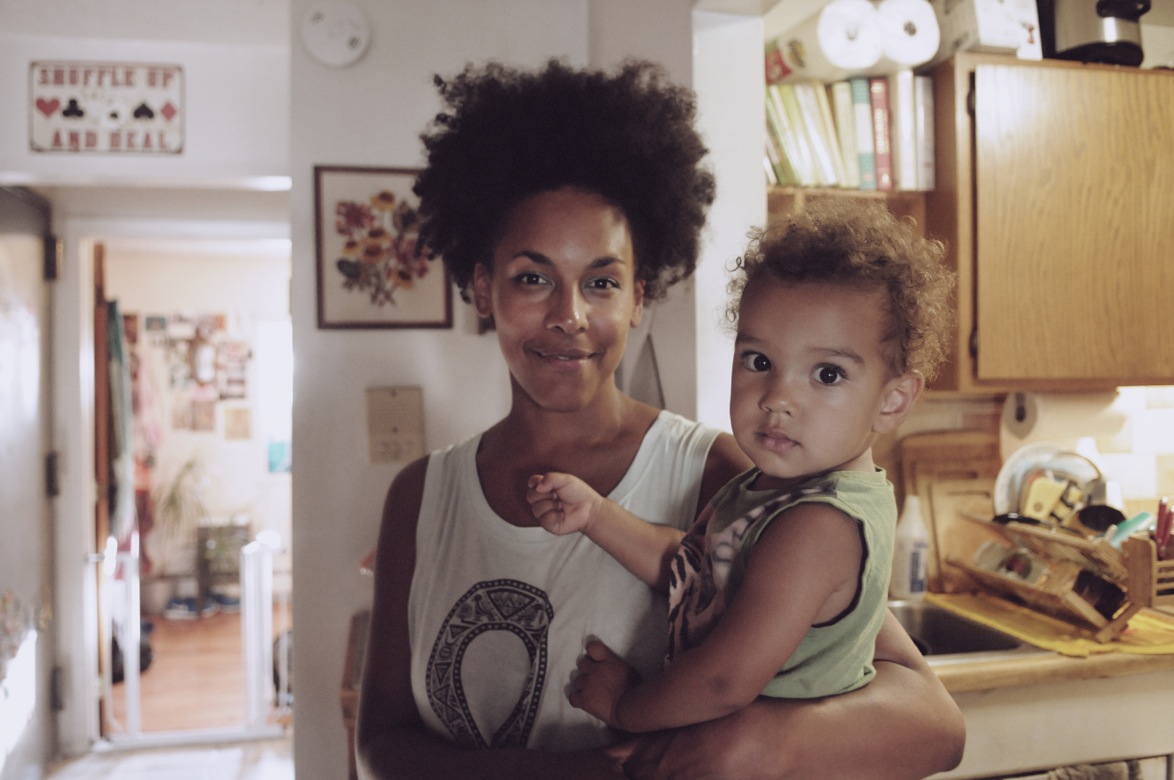 UPDATE FROM KAMARA THOMAS, MUSICIAN
When we last spoke with bass-shredding vocalist Kamara Thomas, her band, Earl Greyhound, was on hiatus. But the break didn't slow down Thomas' life. She and her husband, musician Gordan Hartin, had just welcomed their daughter, Cherokee Moon, into their home. She was also still rocking out with her band, Kamara Thomas and the Ghost Gamblers, then completing and promoting her successful first solo album, Earth Hero. The new presence in Thomas' life even inspired her to start writing a song about her daughter.
"I want to draw power down for her so that when she hears her song, she can engage with the mythology around [it] and engage these powers for herself," Thomas said a year ago. Now, the Cherokee Moon song is almost finished. "She's grown up so strong and fierce, talking tons, just everything is kind of blossoming," Thomas says proudly.
Photo Credit: J. Quazi King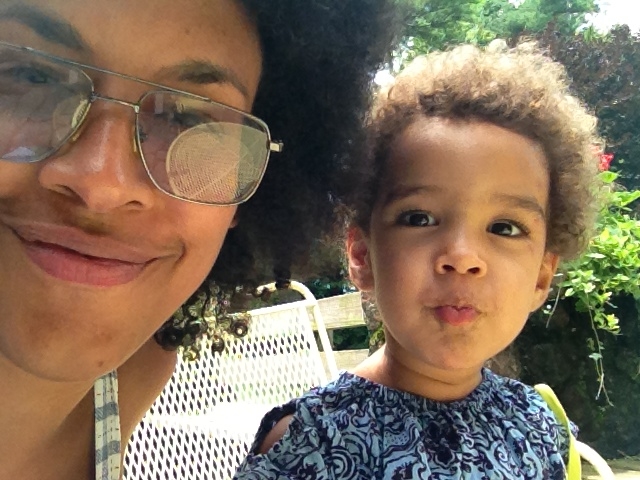 A year later, the entire family seems to be blossoming, thanks to a major change in their lives. "We moved down to [Durham], North Carolina at the end of April, and that was a great move for the family and for her," Thomas shares. "She's gotten to be outside a lot more. We have a back porch and a place for her to ride her bicycle; she's been sort of exploding with new stuff."
So has her mother: Just because Thomas moved to North Carolina, doesn't mean the era of Earl Greyhound and Kamara and the Ghost Gamblers is over. While Earl Greyhound is still on hiatus, band member Matt Whyte has family ties in North Carolina, so Thomas and Whyte plan on playing in shows together. As a band, they have a couple projects coming up as well. While much has changed in Thomas' life, one aspect is certain—no matter her location, Thomas will revel in what she loves: her family and her artistic self-expression.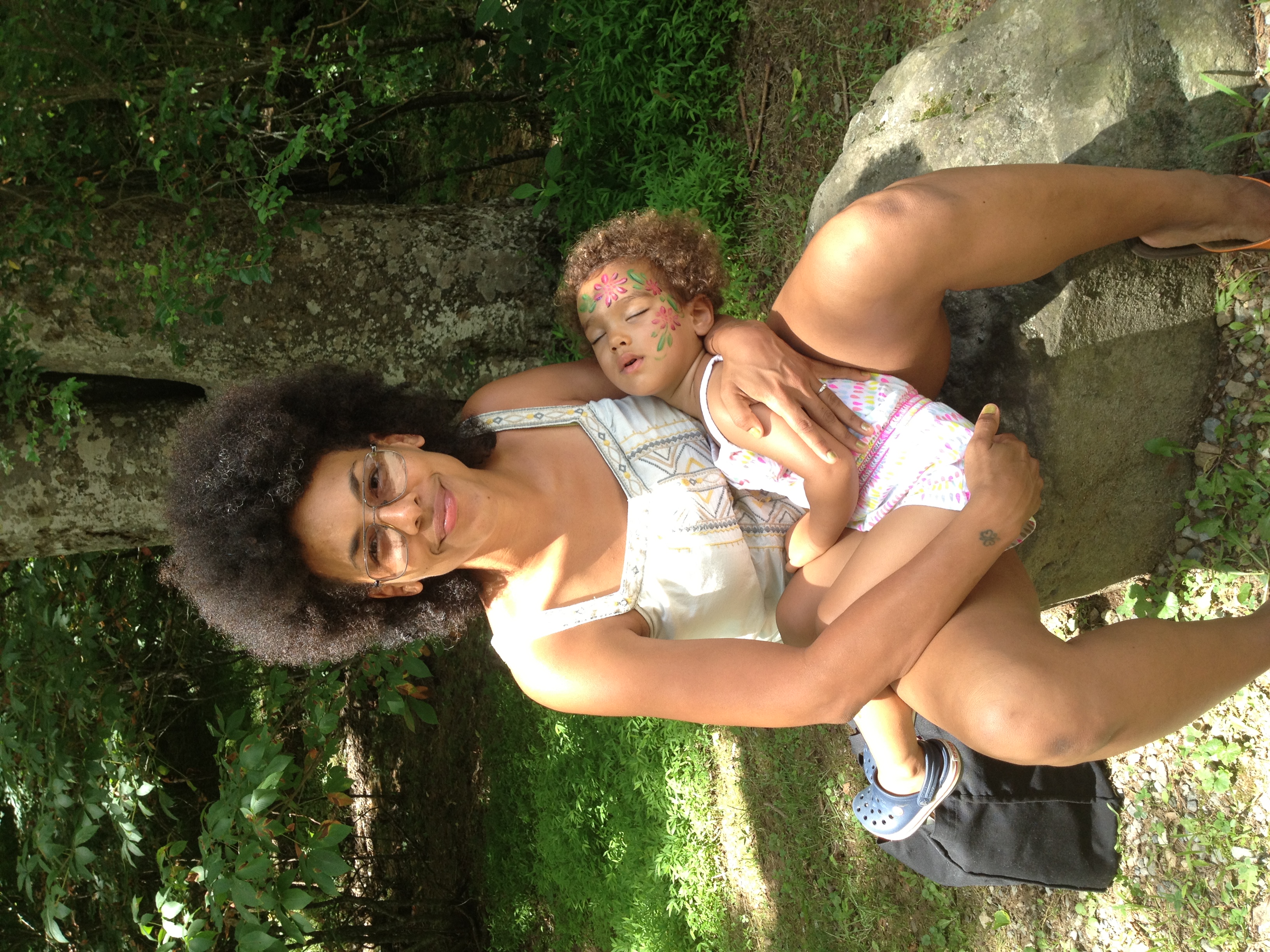 Are you happy with your move to North Carolina?
I totally love it. Everyone feels a little freer, [and] we just feel more expansive down here. Plus, there's tons of work to do in terms of racial equality, and there's crazy political stuff happening down here with voting and abortion rights. I like that about being here—it's a place that's calling for people who want to make it better.
Is there a strong artistic presence in Durham? Will you continue your art there?
There's a really great arts scene down here. It's very supportive. I am currently working on "Bulgaria," a "psych-folk musical." I was able to finish the script as soon as I got down here. I'm also trying to get my new band together; it's been slowly but surely coming along.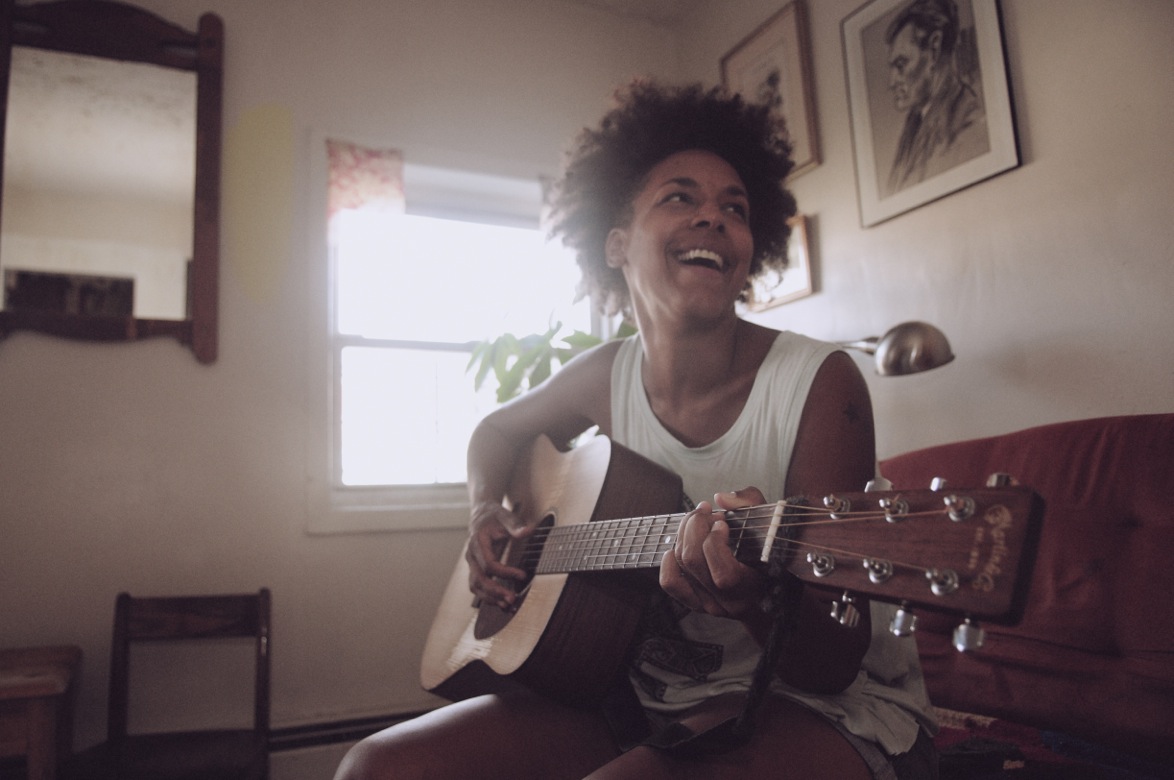 A "psych-folk musical" sounds unique! We know that you're very passionate about music. Has it been difficult to write a play script?
The psych-folk musical has helped me little-by-little re-engage as a playwright. I [studied] theatre in college, then I veered off the theatrical path for music and songwriting. There's a company called Durham Family Theatre that I might become involved with. They want to do multiracial and multi-generational theatre, and in the South that means a lot to have that become their focus. I've been helping with a lot of that recently. We might put up my musical as a part of that in the coming year.
What has been the biggest challenge about the move?
I've been trying to keep my head on straight, stay patient, and just love my family. The first year or two with your child is a magical time, and now as we're settling down to everyday life it's hard to go on that rollercoaster. Sometimes you have to say, "Today, I am not at my best." But you have another chance the next day to improve your mood or increase your presence in the moment. That's my new challenge: trying to stay present in the moment, immersing myself in the things I'm passionate about.
Photo credit: J. Quazi King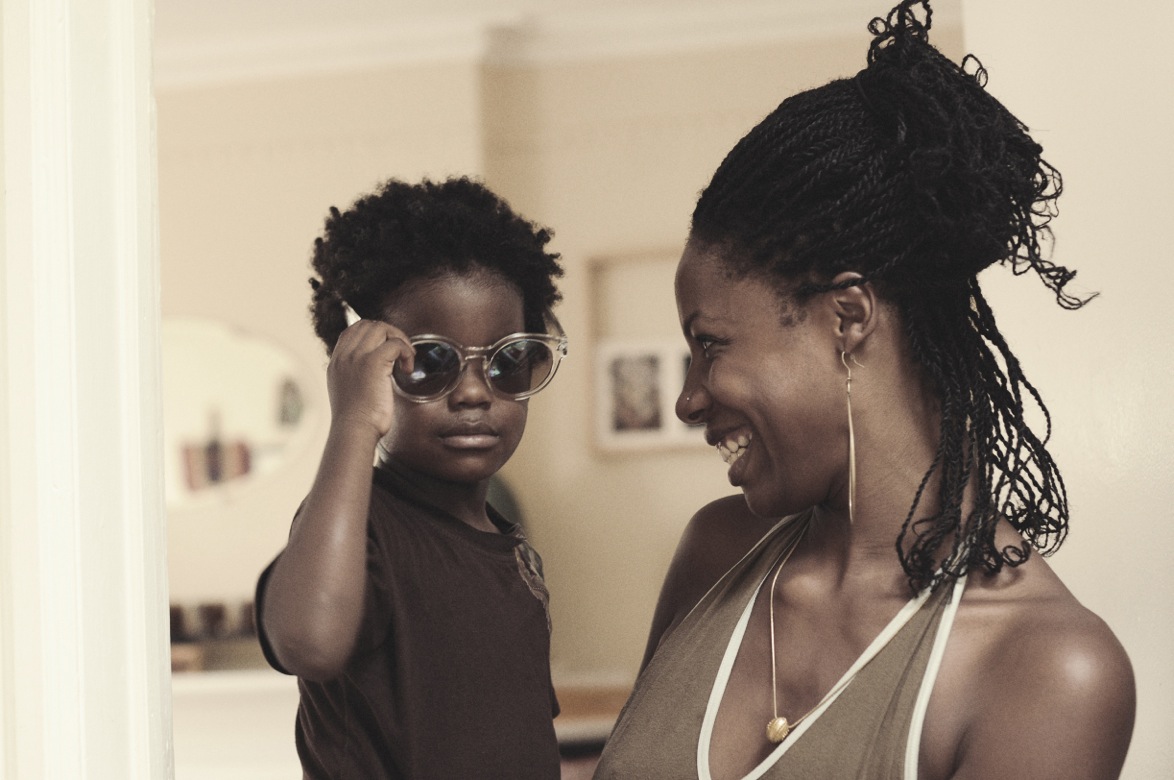 UPDATE FROM NASOZI KAKEMBO, HOME DECOR DESIGNER
In her quest to follow her passions while supporting herself and her 3-year-old son, Rafayonda, Nasozi Kakembo found herself balancing motherhood, a full-time job in social justice, and her budding home décor line, Origins Style by Nasozi. "It would be next to impossible without my collective family," Kakembo said of her 24/7 juggling act. "It's literally a village effort."
These days Kakembo takes both her son and her work with her. After quitting her social justice job to focus on her batik and wax prints home goods line, Kakembo can decide how she wants to spend her time and where she wants home base to be. "I'm a big believer that you get out what you put in, and now I can devote much more time to Origins," Kakembo says. "I've been much busier, but in a very self-gratifying way. I've always loved to travel, so I've found ways to incorporate it into my work."
Photo credit: J. Quazi King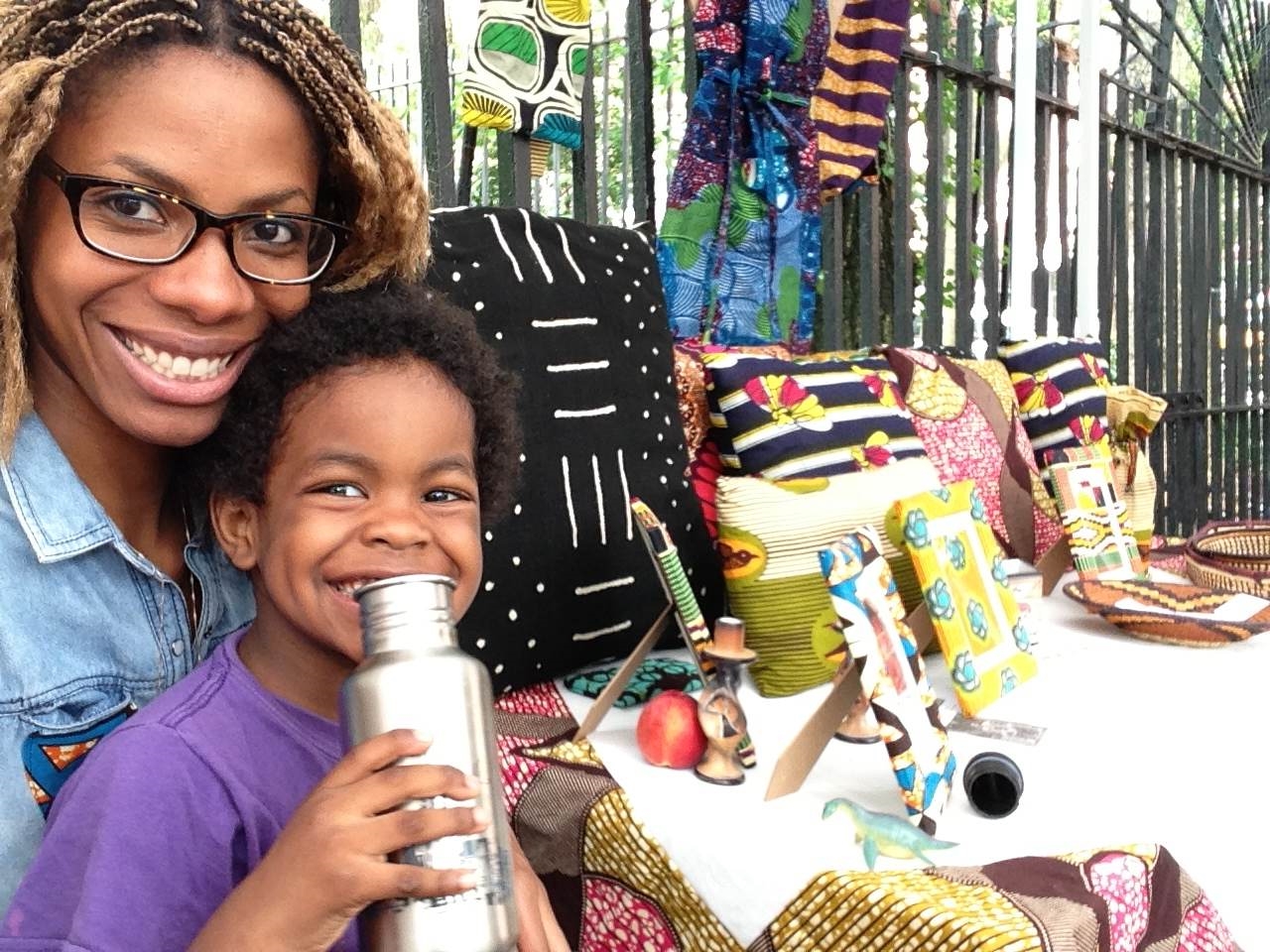 While being her own boss can be stressful at times, Kakembo loves being able to travel on her own accord, combing each destination's market for fabrics and home decor. If all goes according to plan, she will be working from Brazil this winter (she has a secret hope that Rafayonda will learn Portuguese).
"I'm a firm believer in learning through experience and immersing oneself in other cultures to gain a better understanding of how the world works," she explains. "I want him to get a bigger experience than just Bed-Stuy. While it's a very multicultural neighborhood, it's still Brooklyn. Different types of traveling give you a different perspective."
A self-proclaimed "wanderer," Kakembo now intends to fully immerse herself in the world beyond New York City—all with her son by her side.
Now that you're working full-time on Origins instead of your social justice job, do you intend to continue doing any philanthropic work?
I was not impressed by the models of philanthropy and development that I came across [in my field]. I'm taking a step back. I don't want to enter [back into the social justice field] formally, but I want to see what other models I can explore or innovate in economic empowerment and cultural development through the use of my own business.
Where are you interested in trying out these models?
Uganda. [It's easier] for me because I have family, connections, [and] cultural relations [there]. It gives me incentive, inspiration, and loyalty towards that place; I have a personal interest in working with the people there. I have a genuine commitment to developing some way to work closely with the artisans there. I intend to build up that network instead of the more traditional means of foreign aid.
How is Rafayonda, "your little comedian," doing?
He is a lot of fun! He still makes me crack up. He's still a comedian, but now he's beginning to understand that he's funny. We have inside jokes, which is really hilarious. He's very athletic, and I'm looking to get him enrolled in some kind of kung fu and physical activity after school. He really likes being part of something, being on a team, taking directions from someone who's not me. (Laughs) He's also into dinosaurs. It's at the center of his world right now; he's learning all the dinosaur names.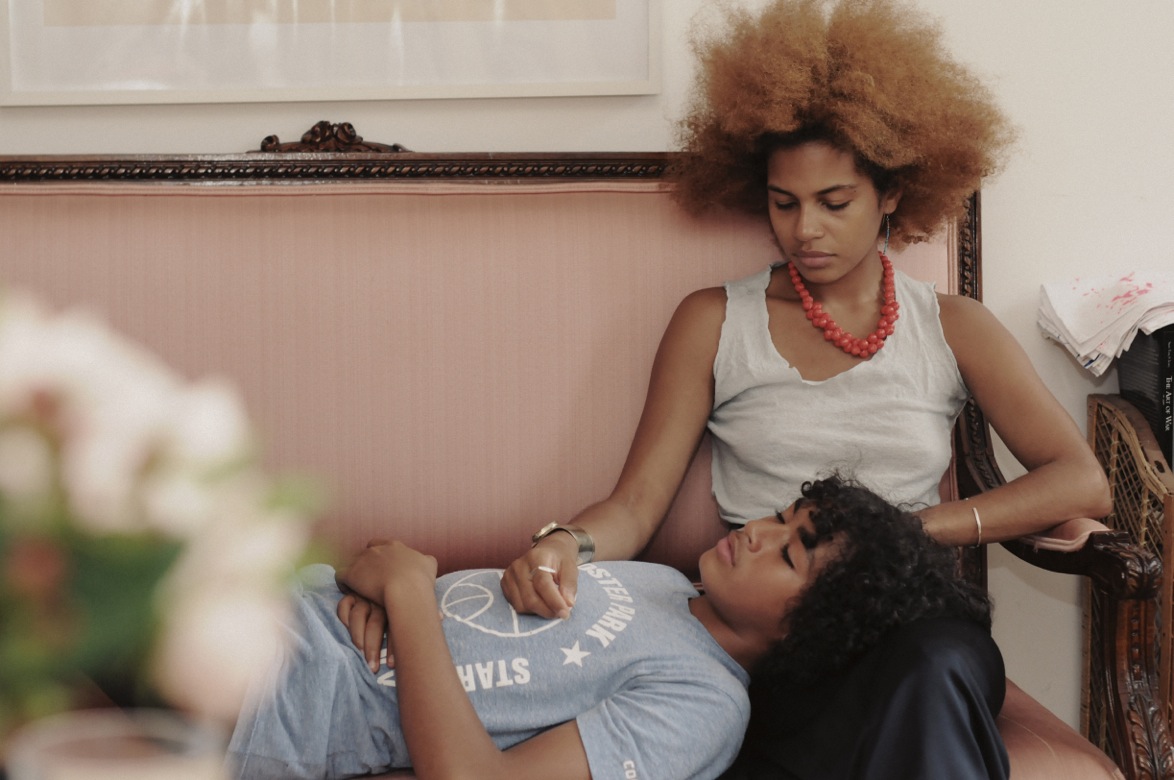 UPDATE FROM MENGLY HERNANDEZ, STYLIST
Constantly creating, textile designer and wardrobe stylist Mengly Hernandez was full of projects when we spoke with her last. But she had a very good reason for keeping so busy; besides pursuing her own creativity, she was also acting as a role model for her son, Ousmane. "I want him to create," she says now. "It keeps you going, it keeps you happy. It develops you. I wish for him to always use that as a tool in his life to become a better person."
As her son gets older, her responsibilities as a mother are changing, and she's focusing on different mediums of art, Hernandez says. "I've been working on trying to get my textiles [Linea Germania] into retail stores. I just finished an e-commerce site and it's dedicated to all my textiles," she explains. "I used to hand-print everything on cotton, but just recently I began to have them digitally printed. I'm in a phase right now where I just want to experiment."
Photo credit: J. Quazi King
While Hernandez is developing her work, her son is engrossed in his high-school experience. He'll be 15 in November and is going into his sophomore year. "I feel very blessed, I can't say it enough, that I have a very responsible kid," Hernandez says. "I wasn't sure what was going to happen, but he's responsible. He's caring. He's a lot more independent and self-sufficient, and because he's so responsible, I don't have to break my head worrying about what he's doing. It gives me more opportunities to focus on what I need to focus on without that element of stress."
Hernandez, looking forward to the future, says proudly, "You know when you feel like your life is going the direction you've foreseen? Things are developing organically, and there's no better feeling."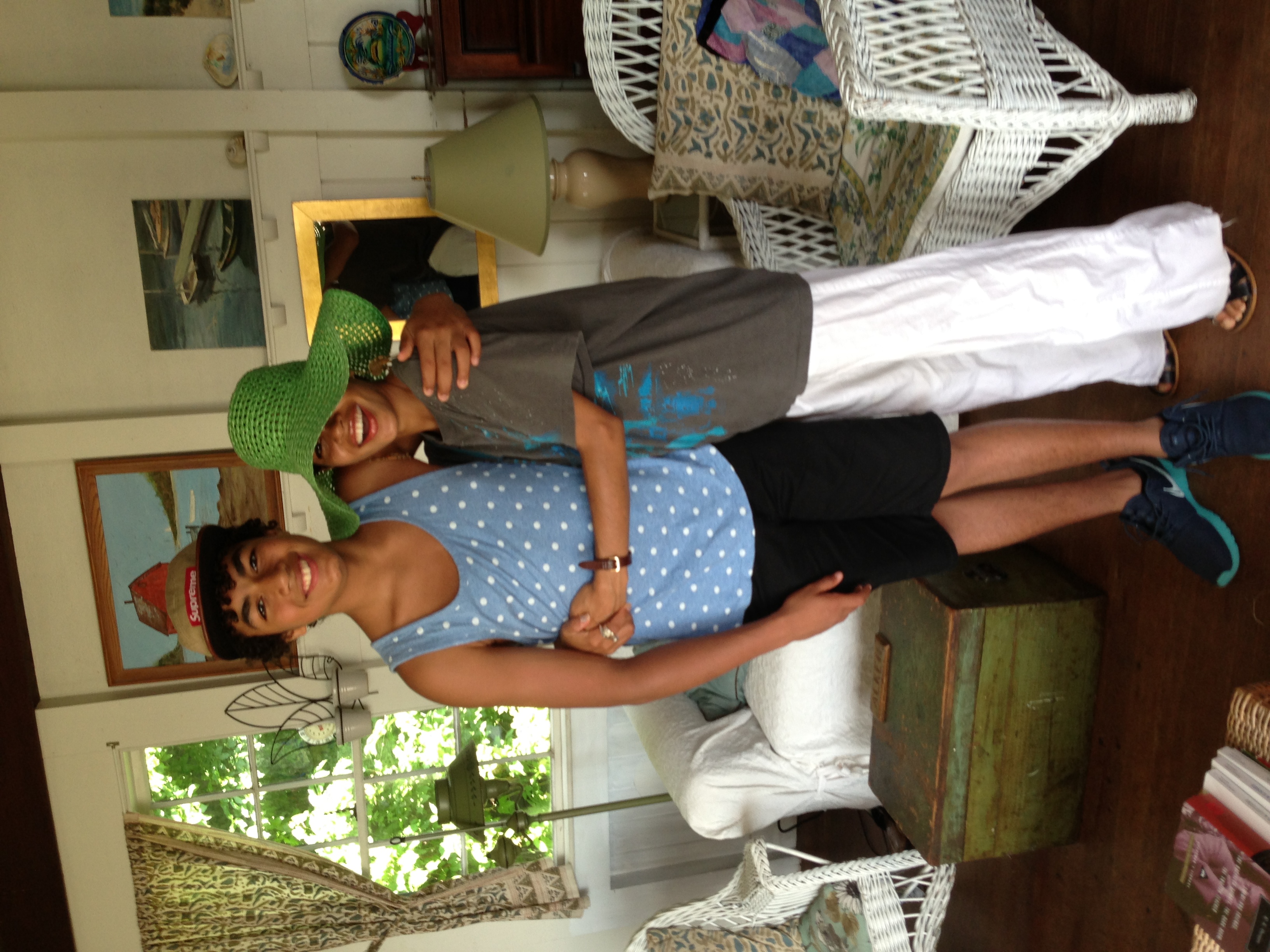 A year ago, you spoke of the importance of staying balanced. With all the new projects in your life, is it hard to manage everything?
It can get challenging when you think of all the different things you have to take care of, especially when you're pushing your own business. I still practice yoga. Something that's been added to my routine that's been very instrumental in added peace of mind is meditation. It keeps me as centered as I can possibly be.
Other than your line of textiles, are you working on any other artistic projects?
I've been working on a really interesting project with Tobias Hutzler. It's a conceptual project that has to do with textiles and fibers, using the body and the textile fibers as sculptures. I am so thrilled with this project. It's the perfect marriage for me, of both worlds that I'm in: styling and conceptual art, as well as fiber art. It's been ideal. We're looking to have a small book published in a fashion or art magazine. I've also joined a collective called Creative Collective Col-lab, a group of multimedia artists.
How is your career as a stylist going?
I still work in advertising, but I would love to start moving towards projects more in the vein of conceptual art. It's more about being creative, coming up with projects from scratch—you don't have the commercial element. You're going to the drawing board and planning everything from the concept to the final touches.
ΔΔΔ
Mom Updates
Issue No. 30
Whether establishing a business from their dorm room or serving an executive position at a global company, there is something that unites every mater mea mother: They all serve as reminders to the potential within all of us. For our 30th issue we wanted to catch up with some of the women we have profiled in the past. While it comes as no surprise that they are continuing to make great strides in their careers and as mothers, we remain blown away by these women's stories.